Recycling
Remember: Be Bear Aware and do not leave your totes out overnight. To ensure a successful collection, totes may be placed at the curb after 5:00 am and before 7:30 am on your scheduled collection day; pickup times are not guaranteed and may change from week to week.
Check your collection schedule and any curbside updates here.
Curbside Basics
Empty and rinse containers
Keep items loose within your tote: Do not bag recyclables **
Ensure that your tote lid is fully closed on collection day
Cut and flatten cardboard to fit loosely in your tote. To ensure successful collection, pieces should not exceed 30" x 30" (

76.2 cm x 76.2 cm)
** Exception for shredded paper which must be placed in a paper bag or box.
Accepted Materials
The CVRD curbside recycling program accepts clean household packaging and paper products only. This includes:
Any clean paper products such as newspaper, paper cups, flyers, magazines, and catalogues cereal boxes, moulded boxboard packaging items such as egg cartons, multi-layered paper bags such as bags of flour or sugar, and flattened cardboard
Clean plastic containers, bottles, and cartons such as takeout clamshells, bottles used for household and food products, plastic pails (under 25L), milk cartons, tetra paks, and seedling trays
Clean metal food containers/cans, non-hazardous aerosols, and foil such as tin/aluminum cans, pie plates, empty aerosol cans used for food or personal hygiene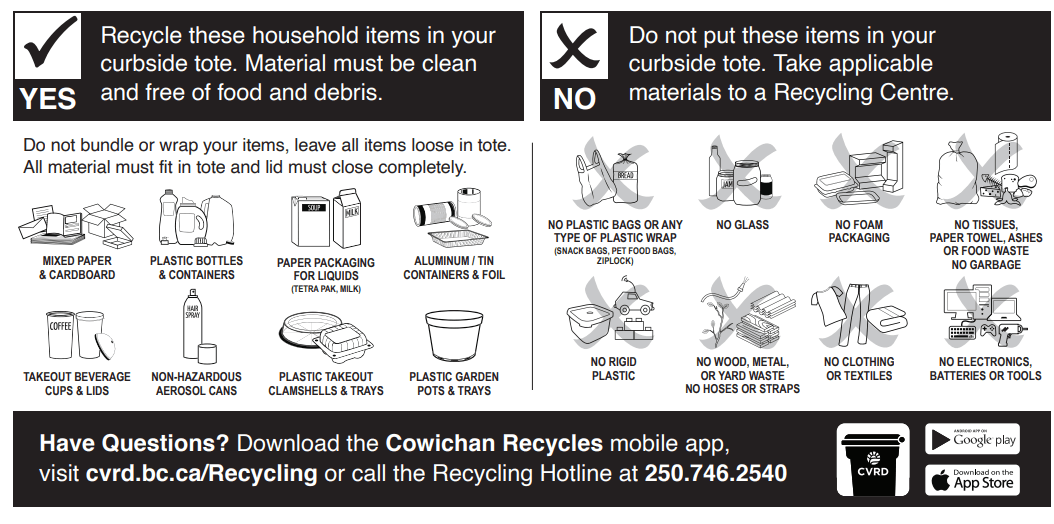 What to Do with Confusing Items
Still unsure of what belongs in your recycling tote? Click on one of the boxes below to learn more.
Recycling Centres
Our Recycling Centres accept hundreds of materials not accepted at curbside. Click here for Recycling Center locations, hours, accepted materials, and fees.
Additional Recycling Resources
Knowing what belongs in your recycling can be confusing, as it can vary depending on where you live. On top of that, the vast amount of materials and products that we use each day can make the proper disposal method unclear. This confusion can result in contamination, where incorrect materials enter the recycling stream and compromise remanufactured products. Looking to dispose of a certain item? Visit the Cowichan Recyclopedia to learn how to dispose of hundreds of items!
The CVRD collects recyclables on behalf of Recycle BC, a Vancouver-based non-profit organization, which keeps our recyclables local. Learn more about the Recycle BC program, and how BC is better at recycling than most of Canada in the short CBC video below.