Woodley Range Water System
Woodley Range is a small water system, located in Area H, servicing 37 residential properties.
Source, Treatment and Distribution
The source water for Woodley Range water system is groundwater wells. The wells have very limited capacity therefore an aggressive water conservation program is required for the water system to maintain a sustainable water supply. In the dry, summer months the water supply must be supplemented by bulk water delivery to ensure adequate water levels are maintained in the reservoir for fire protection.
The water receives chlorine disinfection before being stored in the 327 m
3
water reservoir and fed to the system as required by customers.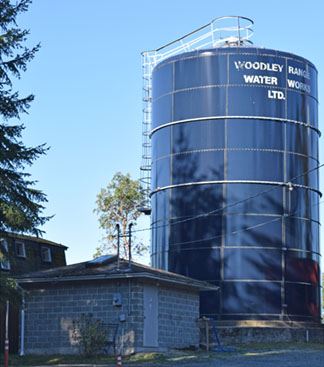 Critical equipment is monitored 24-hours a day for malfunctions, such as high or low chlorine levels or pump failures. if such an abnormality occurs an alarm is sent to the on-duty pager to alert CVRD staff for immediate response.
Watering Restrictions

Due to a limited water system source, Woodley Range water system is under
STAGE 3 Water Restrictions
throughout the year.

Water Quality Tests
Woodley Range water system is sampled, at a minimum, once a week. The following table shows the sampling frequency and parameters tested for the water system:
| | | |
| --- | --- | --- |
| Frequency | Parameter Tested | Laboratory |
| Weekly | Bacterial (E.Coli and Total Coliforms) | Samples are submitted to the Island Health Authority for testing by a provincial laboratory |
| Annual | Full spectrum analysis based on the Canadian Drinking Water Guidelines. Sampling of the source and tap water is alternated each year. | AGAT Laboratories |
Testing results can be found in the
Annual Water Report
completed each year
Fee Structure


Woodley Range is a fully metered water system and each connection has a water meter that records water consumption. Water meters are read every three months and customers are charged according to their consumption. The low water allotment per property is a reflection of the very limited source water.
Annual Charges

Billing Period
Meter Reading Date
User Fees*
minimum payment (up to 25m

3

)
Parcel Tax**

Minimum Annual Fee
(User Fee and Parcel)

November 1 - January 31
February 1
$200.00
$800.00
$1600.00
February 1 - April 30

May 1
$200.00
May 1 - July 31
August 1
$200.00
August 1 - October 31
November 1
$200.00
*User Fees are mailed out to each customers on the billing date stated above.
**Parcel Tax is charged once a year and is incorporated into the property tax for each customer.

Current year budget information can be found
here.
Inclined Block Rate Table

User Fees
Water Use (per billing period)
Charge
0-25 m

3

$200.00

over 26 m

3

$200.00 + $10.00 per m3 over 25 m3

High Consumption Due to Leaks


User charges may be adjusted on a one-time forgiveness basis, where an undetected leak on your property has resulted in water consumption greatly exceeding your normal consumption (for the billing period) and there is no indication that water was knowingly allowed to run to waste. Additionally, a cap of $1500.00 is in place for subsequent leaks after the first "forgiveness" of a water overage charge. Written verification describing the nature of the leak and the action taken to repair the problem must be received by the Manager before the forgiveness will be granted