Smart Drive Challenge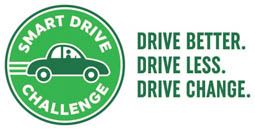 The CVRD is promoting the Smart Drive Challenge to drivers throughout the Valley.
Smart Drive Challenge is engaging Canadians in a national education-centered points-based program to reduce their personal vehicle fuel use and greenhouse gas (GHG) emissions. Smart Drive Challenge encourages and empowers Canadians by
Making their current vehicle use more efficient through improved driving techniques and vehicle maintenance;
Increasing their awareness and use of low and zero emission vehicles; and
Supporting and increasing their use of sustainable transportation options
Smart Drive Challenge recognizes and addresses the importance of changing transportation behaviours now. With many Canadians feeling cash-strapped and car dependant, it is vital to show them ways to save fuel, money and reduce GHG emissions while they are behind the wheel of their current vehicle. Then, for those who are able, further action can be taken by switching to low emission vehicles and more sustainable modes of transportation.
Smart Drive Challenge is a program of Scout Environmental and is brought to you by the Canadian Fuels Association with funding support provided by Natural Resources Canada, BC's Ministry of Energy and Mines and Nova Scotia's Connect2 program. Smart Drive Challenge is delivered in collaboration with Alberta Motor Association, Alberta Transportation, BC's Capital Regional District, BC's Cowichan Valley Regional District, City of Edmonton, Clean Air Hamilton, Halifax Regional Municipality and Smart Commute.
Call to Action: Smart Drive Challenge is now accepting drivers across Canada for a free education-based program teaching them how to drive smarter: reducing their fuel consumption and lowering the impact of their driving on their community, the environment and their wallet. Participants will be given their own learning dashboard where they can complete online courses and access learning resources. The responsive training tools work on any device and can be used anytime, anywhere. When the learning is done, we challenge participants to apply their newfound knowledge in their daily lives by becoming smarter drivers. Participants will be rewarded with points along the way, and points can be used to win cash prizes – the more they learn, the more they can earn!
Registration is now open at SmartDriveChallenge.ca
Scout Environmental (Scout) is a not-for-profit organization that specializes in the development, delivery and management of creative programs that engage people on issues related to the environment.