FireSmart in the Cowichan Area 
Are you prepared for a wildfire? With an increase in the number and frequency of wildfires over the last 10 years, wildfire is a risk that all communities in the Cowichan area need to prepare for. Ask our FireSmart Coordinators to assist you in getting started today! They can provide you with education and support allowing communities to take proven steps toward protecting homes and property from wildfire.
Whether you are concerned about your house or neighbourhood, the CVRD can help you determine how to improve home resilience, while protecting your buildings and property from wildfire. Whether it's your house, your neighbourhood, a farm or ranch, critical infrastructure or vital resources, the CVRD has local experts and easily accessible resources that empower you to make your community safer.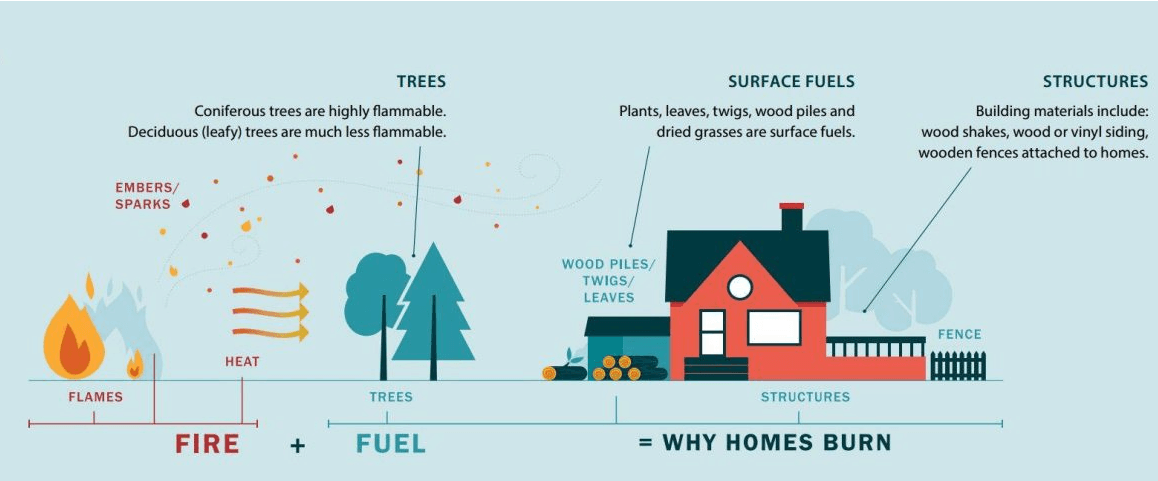 Embers and sparks are common causes of home ignition. They are easily transported by wind and ignite fuel sources such as coniferous trees and surface fuels such as plants, leaves, wood piles and dried grasses. Building materials used on your home such as wood shakes, wood or vinyl siding and wood fences attached to homes can also be an easy source of fuel for a wildfire.
Check out our free FireSmart programs available to Cowichan communities and residents:
A Recent FireSmart Cowichan Project - Malahat Firehall Upgrade
The Cowichan Valley Regional District and the Malahat Volunteer Fire Department recently took on a FireSmart mitigation project. The project was a critical step towards reducing the wildfire risk to the Malahat Fire Hall. Please watch the video below to learn more.
More Information on Cowichan FireSmart - Webinar Presentation
See below for a detailed presentation on programs at CVRD (54 min).
It sounds like you are doing a great job maintain your property and keeping it FireSmart.

That being said, FireSmart diligence is a year-round activity and even a low risk property can become high risk once leaves or needles drop from trees.

Windstorms and tree shedding can create pockets of debris in corners and areas of your home that can become major hazards in a wildfire event. Embers from large fires can travel great distances and start fires miles away, so even the most prepared people can still be affected by a fire.

FireSmart is built upon scientific facts and practices that effectively make a difference no matter the unique characteristic of each property. If your unsure where to get started or you feel overwhelmed, please reach out to the CVRD FireSmart program at fire.smart@cvrd.bc.ca or better yet, sign up for the FireSmart Kick Start project to get your property assessed.


Check the CVRD website for tips and links on how to sign up as well as how to approach your neighbours.

Do you have a truck? Or a saw? You could reduce your own risk by helping your neighbours. Offer to take away branches, leaves and yard debris for a neighbour in need of some help.

The home ignition zone is broken down into 4 zones.

Non combustible zone: 0-1.5 meters
Zone 1: 1.5-10 meters, create an area that does not easily transmit fire to the home.
Zone 2: 10-30 meters, if property extents to this range remove dead or accumulated debris, prune trees to remove ladder fuels to prevent spread into crowns.
Zone 3: 30-100 meters, this zone can be used to create fire breaks that can steer a fire around your home.
View All